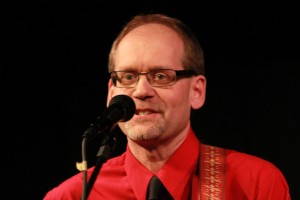 David Michael King Has Fun Crossing Musical Spectrum  
"I never thought our love would end
With her saying 'Let's unfriend'
On Her Facebook Page."  
-David Michael King,"Her Facebook Page"
A tango…Motown…the blues…a ballad…country—these are the musical styles that David Michael King explores in his self-released debut EP, "Love and Other Punchlines."  With a decidedly satirical approach to the subject of love, King tells stories of a man declaring his love in a karaoke performance, the attempted wooing of a very distracted woman, and, of course, a break-up on Facebook.

King, a music librarian at the Carnegie Library of Pittsburgh, started writing lyrics in his previous career as a union organizer. "I would write song parodies to make fun of the boss," King said. "I found out pretty fast that humor can carry your message more effectively than being serious."  After completing his music degree at the University of Pittsburgh, King got involved with the Pittsburgh Songwriters Circle, a program of the Calliope Folk Music Society. He soon found he had a knack for writing engaging melodies in a variety of musical styles.
Pittsburgh Magazine highlighted King's song, "Love Grows Naturally" on Pittsburgh Songwriters Circle Vol. IV as "standing out…a charming, country feeling" (July 2009, p. 95). The Saturday Light Brigade radio show called him "a very good songwriter" (October 3, 2009).
King is also lead singer and guitarist for Pocket Full of Tin, an acoustic trio that specializes in Stephen Foster and early American music. The other members of the group are Gil Bigenho, Jr. (fiddle and vocals) and Janice Alemian Belitsky (vocals).  King's past appearances include the Acoustic Hour Radio Show (WCCS Radio), Bloomfield Bridge Tavern, Calliope Emerging Legends, Doo Dah Days, Heinz History Center, Kaleidoscope Arts Festival, Moondog's, Papa J's Centro and the Pittsburgh Center for the Arts.